digital views. real perspectives.
A straightforward solution for complex challenges – new and innovative ways
with 3D city models.
Virtual City Systems offers innovative solutions for managing, distributing and using digital 3D city models.
3D City Models
A growing number of decision makers are realizing that 3D city models will soon be an indispensable central information system that virtually anyone can access. The high-quality
information and solid spatial visibility they offer – and the diverse range of uses they support as a result – make such models a valuable tool for addressing a wide variety of issues.
Digital Urban Planning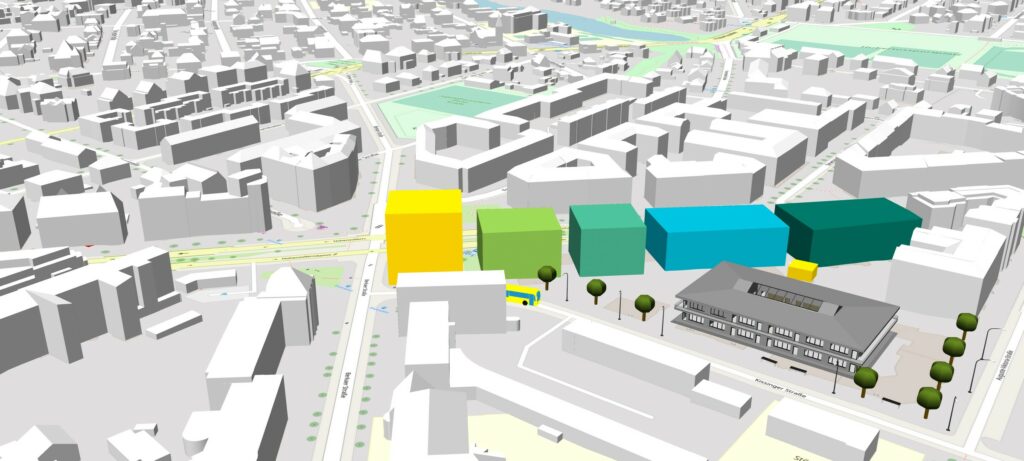 The field of urban planning is subject to a good deal of give-and-take with regard to the general public interest. During planning processes, interested citizens and the people involved in such projects need to be able to understand the underlying plans and follow along as they take shape. Here, it's important to present and pass on information regarding the backgrounds, challenges, and visions pertaining to urban planning projects in a comprehensible way.
Urban Simulation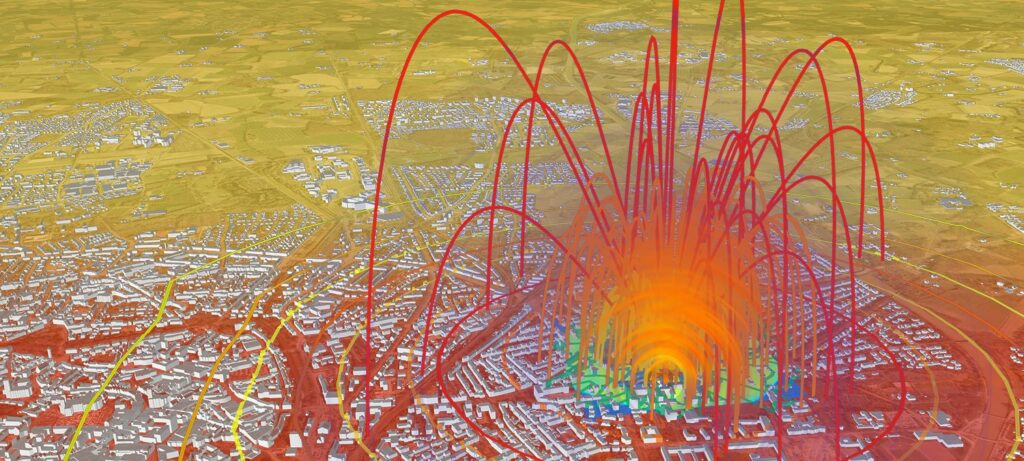 Simulation of the spread of blast waves and shrapnel caused by unexploded aerial bombs from World War II while factoring in surrounding structures with unprecedented accuracy and speed. Along with adjustments in existing structures, the solution supports the modeling of specific situations in which such ordnance is discovered and can incorporate further objects (e.g. temporary container walls) into its simulations.
Oblique Aerial Images
Today, high-resolution oblique aerial images are an important tool used by many municipal and district administrations. They provide an excellent foundation for analyzing urban structures and ascertaining changes in both urban and rural settings.
"I dreamed as a young architect that one day we would use tools so we can do more alternatives, create more ideas, and show them more clearly. And now we are very close to this dream. Virtual City Systems accompanies us on this path for many years with their innovative technology and as a thought leader."
Jarmo Suomisto, Project Manager, Helsinki 3D+,
City Executive Office, City of Helsinki
3D GeodataInfrastructure
One of the main challenges lies in integrating spatial information into administrative, planning, and decision-making processes. Here, 3D geodata has to be refined and managed in a holistic system that enables users to get the
absolute most out of it.
"We want to improve the lives of our citizens, create economic opportunities and revitalize the urban community. With our "Seeing and Understanding Bremen" concept, we are developing the city's digital twin and linking it with geospatial data. The solutions from Virtual City Systems help us to work more efficient and transparent. This enables us to better analyze and respond to urban design, social, economic and ecological changes."
Sarah Tesmer, Head of Department, State Office GeoInformation Bremen, Free Hanseatic City of Bremen
Would you like to learn more about us?
Request more information