Back to overview
Mobility
SAVe
Functional reliability and traffic safety for automated and connected driving
By implementing and developing a virtual test site the project tries to promote the investigation of autonomous and networked driving. In addition to the mere presentation of data, implications on societal questions pertaining to these technologies' role in urban spaces are explored.
At a glance
Project funding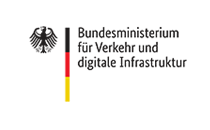 Federal Ministry of Transport and Digital Infrastructure
Project partne
List of project partners
Project duration
May 2018 – December 2020
Need for innovation
"Automated and Connected Driving" (AVF) is a potential "game-changer" for the future of mobility. In the public perception, however, this development takes place almost exclusively in the USA, even though leading vehicle manufacturers, technology suppliers and scientists are based in Germany.
One reason for this misconception is the agile development processes and virtual development methods of the American IT industry, which has now chosen mobility as its target industry and views autonomous transportation as rolling computers.
This contrasts with the traditional development processes and validation methods of the German automotive industry, which focuses on the usability and functional safety of its products and validates them primarily by means of real-life driving tests. The present collaborative project aims to integrate the advantages of both development perspectives and to advance new methods and processes for a rapid and, above all, efficient and safe introduction of AVF.
The German Federal Ministry of Transport and Digital Infrastructure (BMVI) launched the "Automated and Connected Driving" initiative in 2015 with the aim of accelerating the development of AVF. In 2018, the BMVI granted funding to the SAVe project to study how AVF interacts with societal conditions, especially in urban environments. Specifically, virtual and physical validation of traffic scenarios, especially in mixed traffic and urban environments, are being methodically developed and combined to create a basis for future vehicle and traffic infrastructure developments.
Methodology
To this end, the partners in the SAVe project submitted here are initially aiming to digitize exemplary sections of road in the city of Ingolstadt. Virtual development and implementation processes for new AVF functions and components will be based on this model. The exemplary route sections to be depicted in the model will address both the digital test field of the highway and the digital test field of the city. Modeling the necessary technical components in a simulated environment, as well as the actual simulation of AVF functions in exemplary realistic driving scenarios, is of trend-setting importance for their eventual validation and safe integration.
The simulation scenarios are enriched and validated by linking them to real tests and using fleet data. The combination of virtual and digital test fields offers the possibility to create a secured environment for AVF development. For this same purpose, scenarios will be developed in the project that will be evaluated based on demonstrators and the response of citizens.
To apply for the project, the following four main research areas were planned in the form of subprojects:
driving simulation in the virtual test field,
networking of infrastructure and vehicle fleet data in a virtual traffic model,
optimization of automated driving functions and
social aspects of AVF.
Mobility 4.0
"Mobility 4.0" is a Germany-wide strategic business objective that, in its final stage of development, will result in a fully-autonomous driving operation of many motor vehicles. People will then take on the passive role of passengers. But to reach this goal, considerable efforts are still required as a preliminary stage. Sustainably strengthening Germany as a business and innovation hub requires, before all else, consistent, pre-competitive research and development in the following technical subject areas:
the gradual increase in the level of vehicle automation,
the expansion of vehicle-to-vehicle communication, and
the expansion of vehicle-to-infrastructure communication.
Under the leadership of public funding agencies, the project partners are more narrowly pursuing the following three main areas of research and expect to gain considerable knowledge:
Technical validation of increasingly complex driving/driver assistance systems using simulated environments (virtual test field),
Conceptual development of an IT basis for digital networking during real driving operation (digital inner-city test field), and
Social, traffic-relevant impact and acceptance levels.
Common to all is the conceptual creation and implementation of a "multifunctional virtual region model" that can be applied to both aspects and create synergies. It serves as a central IT unit that digitally maps the aforementioned urban space using geometric, static, and dynamic data.
Further links