Save the date  |  September 15, 2021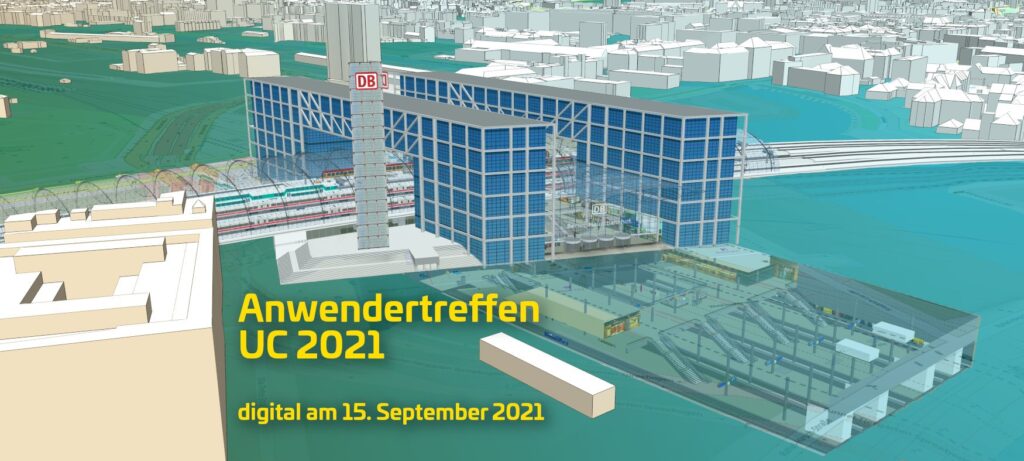 Inspiration around the products of Virtual City Systems
Digital User Meeting UC 2021 on September 15, 2021
In September 2021, we will continue our successful annual user meeting to present the latest exciting uses of our products to our customers – in municipal applications, from the field of research and development and in networking with our partner companies.
The focus of the varied program of keynote speeches, communicative breaks and workshops is on direct exchange with and between the participants. The event offers the ideal opportunity to share experiences with VC Suite, learn from other examples and use cases, and discuss development ideas together.
There is also a suitable place for casual conversations between the participants and the VCS team during the breaks – the digital VC Kantine.
Invitations have been sent to customers and partner companies. If you have not yet received an invitation, please contact us. Contact
Second turn for certificate course "Digital Twins for Cities"
After successful launch in March 2021, the course will be offered again in 2022 at the TUM Institute for LifeLong Learning.
The digital twin is becoming increasingly important as a virtual image of urban structures and elements. Supplemented by data from a variety of sources, it can provide up-to-date information and forecasts at any time and show them in comprehensible and understandable visualizations.
The continuing education program "Digital Twins for Cities" at the TUM Institute for LifeLong Learning, which is now being offered for the second time, combines the fields of digital building (BIM) and digital urban modeling (CityGML) with innovative analysis and simulation methods in its interdisciplinary approach. In addition, practical application scenarios from municipalities and cities provide many impulses for the participants' own, individual context.
The program was developed in cooperation with the Leonhard Obermeyer Center of TUM, CADFEM, Virtual City Systems, the DGNB Academy and the Bavarian Chamber of Architects.
Target audience
Specialists and managers with at least 2 years of professional experience in the fields of urban planning and architecture, smart city, surveying and geoinformation
Format
2 modules on 5 days in March 2022 | max. 20 participants
Language
German
Study location
Munich | online
further information and registration
Digital Twins for Cities – TUM Executive & Professional Education
By the way, our customers receive a 10% discount on the participation fees.
Factsheet Certificate Course
Save the date  |  July 7, 2021 (DE) and July 21, 2021 (EN)
Webinar on the VC Suite 2021 release
This spring, we released VC Suite 2021. Many new functions are now available to our customers, which we would like to present in a live demo.
Our speakers Tim Wendt (Head of Customer Support) and Emanuel Brehm (Sales & Marketing) offer two dates, for one presentation in German and one in English.
in German language
Date: Wednesday, July 7, 2021
Time: 2 to 3 p.m.
in English language
Date: Wednesday, July 21, 2021
Time: 10 to 11 a.m.
Register here for the desired presentation!
Save the date  |  July 7, 2021
AGIT 2021 – re.connecting spatially
Antje Kunze – Director Sales & Marketing at VCS – on July 7 as Keynote Speaker of the Hybrid Event AGIT Symposium & EXPO
AGIT is the annual meeting point for innovation, networking and continuing education from all areas of geoinformatics. Intensive knowledge exchange between research, development, industry and application as well as the resulting interdisciplinary discussions characterize the communicative nature of the event.
On July 7, 11 a.m., Antje Kunze from Virtual City Systems together with Pascal Müller from Esri R&D Center Zurich will open the extensive program around georeferenced technologies as keynote speakers.
We are very much looking forward to Antje's presentation "The Digital Twin in Planning and Construction" and to an exciting symposium on the most important topics of our industry.
In a workshop organized by the Goethe Institute Ukraine, Virtual City Systems shares important know-how on open data structures and 3D city models with Ukrainian experts and students for architecture, urban planning and cultural administration.
The Ukrainian non-profit organization Pixelated Realities is in charge of the content of the project "Cultural Heritage of Odessa". The organization aims to promote and make the best use of digital methods for the restoration and reconstruction of cultural heritage, as well as for the planning and revitalization of public space in Ukraine.
To this end, Pixelated Realities has built a network of people who can scan cultural heritage in various cities in Ukraine and create a digital database of conserved objects. The next step is to create a mandatory digital passport for historic buildings, which will include data such as photo fixation, scanned models, BIM, geodesy and other information.
In the workshop to be held on June 24, 2021, three experts from Virtual City Systems will give lectures and interactive presentations:
"Digital twin, what is it?" – Antje Kunze
"Digital urban planning" – Tim Wendt
"Urban simulation" – Roland Ruhdorfer
We are very excited to be invited and look forward to interacting with dedicated people who are learning and using technology to preserve the amazing legacy of human cultural history.
Like Iana Boytsova, co-founder of Pixelated Realities, who lovingly describes the Ukrainian port metropolis: "Odessa is a wonderful city on the Black Sea with thousands of cultural monuments and buildings from the 18th and 19th centuries."
Videos on the research project Urban Safety 3D online
The German Prevention Day publishes two seminar videos on analysis and simulation in 3D city models for a preventive design of public urban spaces
On May 10 and 11, 2021, the 26th German Prevention Day will take place digitally. In preparation for the event, online seminars have been published on the YouTube channel of the German Prevention Day since the end of March as "Previnar series: subjective safety perceptions and digital planning tools for more urban safety".
In two online seminars, Jörg Finger (Fraunhofer EMI) and Arne Schilling (Virtual City Systems) vividly demonstrate the results of the research and development project Urban Safety 3D and explain how safety assessments for public urban spaces can be created in 3D city models. For the design of safe and livable cities, it is important to counteract the emergence of so-called fear spaces with visibility and audibility analyses already in the planning phases of urban development.
More about Research & Development
New practice webinar
The textured 3D city model of the city of Soest and its multiple applications and user groups
In the future, a 3D city model will be indispensable as a universal and central 3D information system in cities and municipalities. The high information value, the good spatial readability and the associated diverse application possibilities make 3D city models a valuable tool for a wide variety of issues.
In our webinar you will learn how the 3D city model is used in the city of Soest for applications based on it. With many illustrative examples, we will show how a wide variety of user groups – municipal departments, the private sector and citizens – benefit from the 3D data of the city model.
In addition, our partner and aerial flight expert Aerowest will provide insights into 3D city model data acquisition, data processing and the current state of the art.
Date: Wednesday, May 19, 2021
Time: 10 to 11 a.m. CEST
only in German language
Register here – we look forward to seeing you!
Register for free
ASAM e. V. publishes SIM:Guide
VCS article on virtual testing in ASAM OpenDrive Standard is one of the many topics covered
ASAM e. V. (Association for Standardization of Automation and Measuring Systems) is a non-profit organization that promotes the standardization and automation of process chains and technologies in automotive development.
Virtual City Systems is one of the more than 350 members worldwide who use ASAM as a platform to connect, work together in working groups, and jointly develop, release, and maintain (data) standards. We work in the ASAM OpenDrive standard and are very pleased to report our findings on virtual testing of autonomous driving in the just published ASAM SIM:Guide (starting on page 58).
We hope you enjoy reading it!
ASAM SIM:Guide – Standardization for Highly Automated Driving
Start for mobility project PLIMOS
Research and development help to embedd innovative mobility offers in existing transport structures of municipalities
PLIMOS – that stands for "Planning of intermodal mobility services based on 3D city models". The aim of the two-year project is to develop a technical service with which municipalities can plan, simulate and optimize the use of autonomously driving electric shuttles in intermodal public transport on the basis of their 3D city model.
The simulation will incorporate the current real traffic situation – from traffic lights to road users to weather conditions – in order to be able to design future scenarios by integrating autonomous e-shuttles and to uncover possible unbundling of traffic.
The research results are to be tested and validated with real test drives of a highly automated shuttle bus in the city of Grafing. It is planned to transfer the concept to other municipalities at a later stage.
The Süddeutsche Zeitung reported on the start of the project in Grafing near Munich in an article dated April 23, 2021.
More about Research & Development
New brand design
Virtual City Systems unveils new brand design and website
New logo, new notation, and fresh colors as the core of the new brand strategy
"digital views. real perspectives." becomes the new claim
Modern color scheme is also reflected in the new product icons of all products
With our new website www.vc.systems we present ourselves in a completely fresh brand design. For this purpose, the logo, the new notation, the color scheme, and the visual language were completely renewed and modernized.
The aim of the fundamentally revised brand strategy is to demonstrate our company's continuing, conscious focus on future-oriented topics such as Digital Twin, Smart City, and Urban Simulation with a modern appearance.
The brand's fresh color scheme is new, with shades of green referring to its origins and the previous logo. In addition, however, the brand presents itself in a much more complex and multi-faceted way and shows the variety of individually possible applications of 3D geodata. The coordinated product icons illustrate the modular use and interaction of our product line, which ranges from software to hosting and simulation solutions.
"We have worked hard in recent years to be at the forefront of developing advanced methods and technologies for the future use of digital cities. We are proud to show our customers and partners that this is reflected in the new brand of our company. The relaunch of our brand is a very important signal and milestone for us as a team and in our public image".
Lutz Ross, Managing Director
Virtual City Systems
The relaunch of the brand and website will take place at the same time as our year's digital user conference on September 14 and 15, 2020, where our customers and partners will be informed first-hand about new developments in the company.
Enjoy exploring our new website.
Start