On March 17, 2022, a new strategic framework for the European Public Administration Network (EUPAN) was formally adopted in Strasbourg. As a finalist in the Tech for Government Pitch competition, Digital Flanders was given the opportunity to attend the meeting and present the EU-funded DUET Digital Twin initiative.
Lieven Raes and Raf Buyle from Digital Flanders showed how DUET's Digital Twins use both historical and real-time data sources to help public administration make better fact-based operational decisions and effective long-term policy decisions.
The integration of Virtual City Systems' powerful visualization and planning technology will help users visualize any future state of their urban environment. Virtual City Systems is proud to be a part of this great project team.
Further Information:
On January 25, 2022, the kickoff for the new research project GAIA-X 4 PLC-AAD (Product Life Cycle – Across Automated Driving) with participation of Virtual City Systems took place. The project is one of five mobility projects working together in the GAIA-X 4 Future Mobility project family.
A total of 80 project partners are working in an interdisciplinary manner on digitized solutions for mobility applications, where the close networking of users, service providers and manufacturers is particularly important. The mobility of the future is to be made comfortable, safe and environmentally friendly with AI-based solutions and secure data infrastructures. Among other things, the use of automated and connected driving (AVF) plays an important role in this.
In order to be able to develop absolutely reliable technologies and products in this area, test fields and environments based on digital twins are needed. As part of the project, Virtual City Systems is working on the necessary information models and data architectures.
The GAIA-X 4 Future Mobility projects are coordinated by the Institute for AI Security of the German Aerospace Center and funded by the German Federal Ministry for Economic Affairs and Climate Protection.
Press release of the German Aerospace Center
Image rights: DLR German Aerospace Center
District of Hof – Smart Cities model project
Digital twin for heavy rain events 
As the devastating flood events in the Ahr valley and also in the district of Hof impressively show, heavy rain and other extreme weather events as a consequence of climate change must no longer be underestimated. In order to better prevent these dangers in the future, a holistic flood risk management is required. A new innovative approach now represents the coupling of proven simulation solutions with 3D city models – a digital twin is created with a special focus on this field of application.
The district of Hof is pursuing this new approach and is applying it to events in two municipalities as an example for the time being. As part of the Smart City project, a coupling of flood simulation, forecast model and early warning system with the 3D city model of the district is being developed in cooperation with Virtual City Systems, which will increasingly be enriched with further aerial and other data.
For the first time, hydrodynamic-numerical simulations for heavy rain events are combined with detailed semantic 3D city models. Via a specially developed plugin in the VC Map, the cloud-based simulation solution 3Di of our partner Nelen & Schuurmans, whose customers include Rotterdam, is accessed in the background. In this way, individual heavy rainfall events can be defined live in the map application and tracked interactively.
Further information on Smart Cities in Hofer Land: hoferland.digital
What is the evacuation radius of an aerial bomb?
Does the hospital have to be completely evacuated or is it not affected?
Numerous unexploded bombs from World War II are still lying underground. Especially in urban areas, the unexploded bombs represent an invisible but great danger for the population.
Against this background, Virtual City Systems, together with the Explosive Ordnance Disposal Service NRW and the Fraunhofer Ernst-Mach-Institut, developed a solution over several years: VC Blastprotect.
VC Blastprotect makes it possible to assess the numerous unexploded bombs and their consequences for the civilian population more accurately in the event of a detonation and to predict the effectiveness of measures to influence the blast wave and fragmentation flight.
In this webinar, we will present the simulation of detonation scenarios with unprecedented accuracy and speed – in the context of a 3D city model. In addition, Ms. Silke Straubel from Kristenstab Dortmund will report on the successful use of VC Blastprotect in the Dortmund city center.
Date: Wednesday, December 15, 2021
Time: 11 to 12 a.m.
Language: German
Speakers are:
Silke Straubel, Office of Fire, Rescue and Civil Protection – City of Dortmund
Roland Ruhdorfer, Software Developer, Urban Simulation – Virtual City Systems
Dr. Stefan Trometer, Managing Director, Urban Simulation – Virtual City Systems
Emanuel Brehm, Senior Sales Manager – Virtual City Systems
Register for free
On November 17, 2021, the World Smart Cities Awards were presented at the Smart City World Expo and Congress in Barcelona. This prestigious international competition annually recognizes groundbreaking projects, ideas and strategies that make cities around the world more livable, sustainable and economically viable.
The Best Enabling Technologies category recognizes the most innovative and successful projects implemented and developed in the fields of data and technology.
The winner in this category – the Digital Urban European Twins (DUET) project – is a European innovation initiative that leverages the advanced capabilities of cloud, sensor data and analytics in the form of digital twins to make decision-making in the public sector more democratic and effective.
Virtual City Systems is one of the 15 different partners from all over Europe that have been working closely together in the project for two years.
We are very happy for all those involved and for the project cities and regions Flanders (Belgium), Athens (Greece) and Pilsen (Czech Republic) about this outstanding recognition.
Further information
Save the date | November 9 and 10, 2021
Virtual Workshop 3D City Models with current topics such as the new CityGML 3.0 standard
Registration deadline for this year's free event is November 5, 2021
This year's 3D City Models Workshop of the Commission 3D City Models of the DGfK and the DGPF will take place for the first time as an online event.
The main topics are the new CityGML 3.0, the processing of 3D meshes as well as traffic and energy topics. Among others, Dr. Claus Nagel from Virtual City Systems will present the new OGC standard CityGML 3.0 and Nicco Hagedorn from ASAM e.V. will talk about ASAM OpenDRIVE and ASAM OpenX as formats for traffic simulation.
In addition, contributions from the field with municipal applications and simulations will complement the program. As an example, the initiative "Digital Twin" of the Free Hanseatic City of Bremen will be presented by Dr. Sarah Tesmer. In the field of simulation, Armin Gebhard from the Ministry of the Interior of North Rhine-Westphalia will report on the SIRIUS research project, which is used to create hazard analyses for explosive ordnance disposal on the basis of simulations in the 3D city model.
Date
November 9 and 10, 2021 | Registration deadline is November 5, 2021
Format
virtual online event, free of charge
Target group
Users, producers and refiners of 3D city models | Public authorities, companies and universities
Organizer
Commission & Working Group 3D City Models of the German Society for Cartography and Geomatics and the German Society for Photogrammetry, Remote Sensing and Geoinformation.


Save the date  |  October 20, 2021
Webinar on Virtual 3D Road Space Models for Mobility Innovations
The webinar will provide insights into the current development of the open standards ASAM OpenDRIVE and OGC CityGML, the creation of Ultra HD Maps and the linking of urban and streetscape models for networked applications.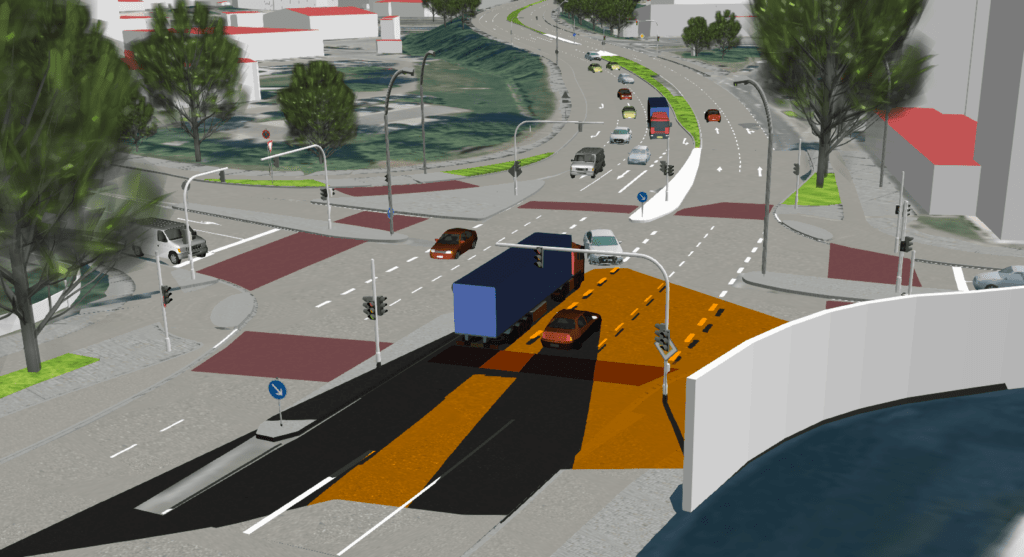 The paradigm shift in regional and global mobility behavior is associated with major challenges. Highly detailed, up-to-date, and valid models of the road space form the link between mobility application and 3D city model. How can models from both worlds be merged in cross-linked applications and simulations?
In our webinar we will give you an insight into the current development around the standards ASAM OpenDRIVE and OGC CityGML. As one of the leading experts in kinematic surveying of transport networks, our partner 3D Mapping Solutions will report on the surveying of road spaces and the creation of high-precision reference maps (Ultra HD Maps).
ASAM e.V., as the organization responsible for further development, will explain details of the OpenDRIVE standard and give an outlook on how it fits into the Operational Design Domain specification (ASAM OpenODD).
Finally, Virtual City Systems will bridge the gap between the CityGML and OpenDRIVE standards and show practical examples of how city models and street space models can be combined.
Date: Wednesday, Oktober 20, 2021
Time: 1 to 2 p.m.
Language: English
The speakers are:
Nicco Hagedorn, Global Technology Manager, ASAM e.V.
Dr.-Ing. Gunnar Gräfe, Managing Direktor, 3D Mapping Solutions GmbH
Maximilian Sindram, Business Development Manager, Virtual City Systems
Dr. Stefan Trometer, Managing Director, Urban Simulation, Virtual City Systems
Register for free
Online Certificate Course "Simulation od Automated Vehicles"
The nine-month online course starts in November 2021 at the ENVITED academy
Turning the vision of autonomous driving into reality requires a fundamental digital transformation which forces engineers to face multidimensional and interdisciplinary challenges. Based on computer simulation as a key technology, agile, cross-company and cross-national digital processes are required. This places new demands on the working methods and knowledge of simulation experts.
The ENVITED acadamy certificate course "Simulation of Automated Vehicles" provides a comprehensive overview and cross-disciplinary context of a data-driven simulation process for the virtual development and validation of automated vehicles.
Four interactive modules structure the course:
Module A: Overview and Virtual 3D Environments
Module B: Sensors
Module C: Scenarios & Driving Functions
Module D: Virtual Test & Certification
Target group
Development and software engineers, project managers, business developers and career changers with university entrance qualification or corresponding professional qualification
Format
120 training hours from November 2021 to July 2022 | minimum of 10 participants
Location and language
online | English
Lecturers
Twenty lecturers from science (TU Darmstadt, TU Munich, DLR Institute of Transportation Systems) and business (BMW, Audi, 3D Mapping Solutions, dSpace and many more) share their application-oriented expertise. Virtual City Systems is also represented with Maximilian Sindram, who will teach on the topic of "City Models".
Those who are interested are invited to submit their applications.
Information & Application
Save the date  |  September 30, 2021
Webinar on the Use of Flood Maps in the 3D City Model
Digital Twins for Flood Resilience – Preparing for Climate Change
How do you visualize the impact of flooding in such a way that experts and policymakers have a shared understanding?
By visualizing and sharing flood maps in a 3D Digital Twin a larger audience is reached and enhances awareness on climate changes. Virtual City Systems, Future Insights, and Nelen & Schuurmans have started working together on this flood resilience challenge.
In this webinar, we like to share our recent experiences with you and give practical insights on how to simulate flooding caused by rainfall or rivers, and visualize and share flooding scenarios in a 3D Digital Twin. Together we want to lower the threshold to create well-defined decisions for the future!
Date: Thursday, September 30, 2021
Time: 10 to 12 a.m.
Language: English
The speakers are:
Jonas van Schrojenstein Lantman, Produktmanager, 3Di, Nelen & Schuurmans
Rick Klooster, CCO, Future Insight
Stefan Trometer, Geschäftsführer, Urban Simulation, Virtual City Systems
Register for free
Simulation in the WAWUR project: Visualization of the flooding scenario due to heavy rain in Dresden, State Capital Dresden and Virtual City Systems, www.dresden.de/wawur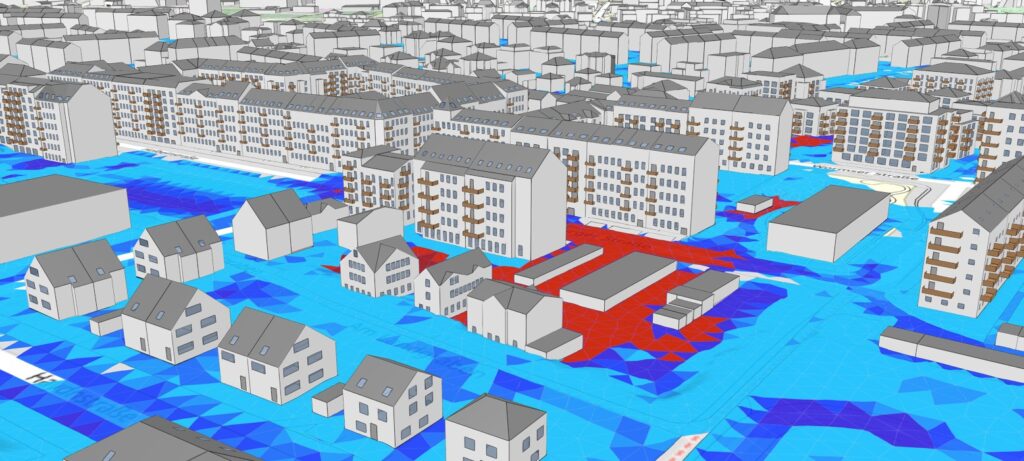 Trade Fair from September 21 to 23, 2021
Meet us live at INTERGEO 2021 in Hannover, Germany
Find the Virtual City Systems team in hall 23, booth 23A.16
Following the purely digital INTERGEO 2020, this year's INTERGEO 2021 will once again open its doors live at the Hannover Exhibition Center. With a hybrid concept of exhibition stands and live experiences in the exhibition halls on the one hand and digital offerings on the web on the other, INTERGEO has been adapted to the pandemic circumstances.
Virtual City Systems will be represented live from September 21 to 23 with booth 23A.16 in hall 23. Taking into account the hygiene concept of the fair organizer and the necessary precautionary measures, we will be happy to advise you in detail and personally. Ask us your questions about Smart City or Smart Region, digital urban planning and urban simulations based on 3D city models.
Feel free to send us a short message if we may send you voucher codes for free tickets.
Order ticket vouchers
Second turn for certificate course "Digital Twins for Cities"
After successful launch in March 2021, the course will be offered again in 2022 at the TUM Institute for LifeLong Learning.
The digital twin is becoming increasingly important as a virtual image of urban structures and elements. Supplemented by data from a variety of sources, it can provide up-to-date information and forecasts at any time and show them in comprehensible and understandable visualizations.
The continuing education program "Digital Twins for Cities" at the TUM Institute for LifeLong Learning, which is now being offered for the second time, combines the fields of digital building (BIM) and digital urban modeling (CityGML) with innovative analysis and simulation methods in its interdisciplinary approach. In addition, practical application scenarios from municipalities and cities provide many impulses for the participants' own, individual context.
The program was developed in cooperation with the Leonhard Obermeyer Center of TUM, CADFEM, Virtual City Systems, the DGNB Academy and the Bavarian Chamber of Architects.
Target audience
Specialists and managers with at least 2 years of professional experience in the fields of urban planning and architecture, smart city, surveying and geoinformation
Format
2 modules on 5 days in March 2022 | max. 20 participants
Language
German
Study location
Munich | online
further information and registration
Digital Twins for Cities – TUM Executive & Professional Education
By the way, our customers receive a 10% discount on the participation fees.
Factsheet Certificate Course
Save the date  |  September 23, 2021
Davos Digital Forum 2021 – Smart Cities Around the World
Dr. Stefan Trometer – Director Business Development at VCS – as expert in the workshop on the current Smart City development in Germany